Seniors Megan Hamel and Maggie Brull present Freshman Ariana Koster with her TMP-M license plate so she can share her Monarch pride on her first vehicle. Happy Birthday over break Ariana!

Senior Rylee Stahl presented freshman Esperanza Fernandez with her TMP-M license plate so that she can show her Monarch pride on her first vehicle! Happy Birthday Esperanza!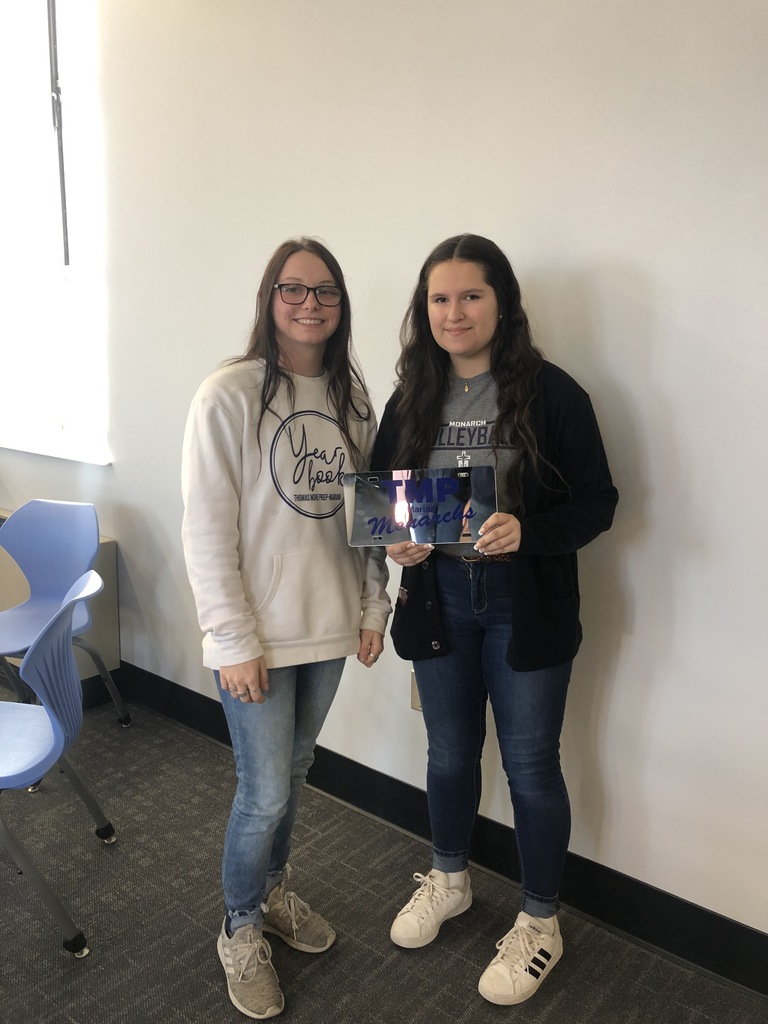 Congratulations to members of the TMP-Marian Football team that were selected to MCL All-League Football. First Team Quarterback Kade Harris TMP Offensive Line Matthew Hess TMP Wide Receiver Jace Wentling TMP Defensive Line Kendall Walker TMP Defensive Back Jace Wentling TMP Kade Harris TMP Kicker Jace Wentling TMP Returner Kade Harris TMP Punter Jace Wentling TMP Second Team Offensive Line Kolten Hagans TMP Defensive Line Matthew Hess TMP Linebacker Bryce Seib TMP Honorable Mention Running Back Bryce Seib TMP Offensive Line Kendall Walker TMP Michael Hale TMP Wide Receiver Mark Rack TMP Tight End Kenton Ginther TMP Defensive Line Michael Hale TMP
Fellowship of Christian Athletes November Athlete of the Month: Ella Brummer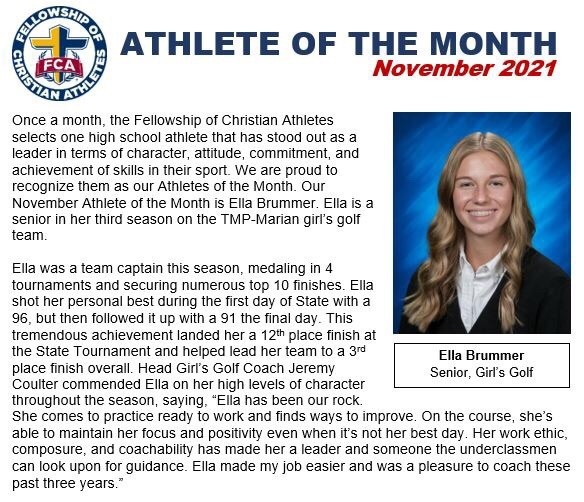 FHSU Math Relays (complete results for TMP-M). In 2A/3A, Ellsworth won with 87, TMP-Marian 2nd with 78.5 and Minneapolis 3rd at 55. Event 1---Number Sense (no calculator) 10th grade---Jin Jang 1st, Caden Becker 10th, Team 4th (Jacob Heimerman, Madelyn Rozean, Keira Wagstaff). 9th grade---Team 6th (Jonathan Lee, Caleb Marintzer, Haley Stecklein). Event 2---Trigonometry 11th grade---Jensen Brull 8th, Keira 9th, Jin 10th, Team 3rd (MyKayla Romme, Arin Schibi, Rebekah Schroeder). 12th grade---Handrick Chen 5th. Event 3---Algebraic Manipulation 9th grade---Team 1st (Jonathan, Caleb, Haley) 10th grade---Jin 1st, Team 7th (Jacob, Madelyn, Keira) 12th grade---Handrick 5th Event 4---Informal Geometry 9th---Team 7th (Brooke Koenigsman, Caleb, Haley) 10th---Jin 1st, Jacob 7th. 11th---Rebekah 4th Event 5---Algebraic Applications 9th---Team 7th (Brooke, Caleb, Haley) 10th---Keira 8th. 11th---Team 4th (MyKayla, Arin, Kade Harris). 12th---Handrick 4th Event 6---Calculations with Calculators 9th---Jonathan 2nd 10th---Team 2nd (Jacob, Madelyn, Keira, Jin) 11th---Team 7th (MyKayla, Arin, Rebekah) 12th---Madelyn Seiler 4th All 16 Monarchs placed in the top 10 in at least one event.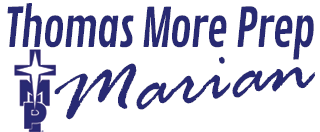 The TMP-Marian Math Relay team took 2nd place at the Fort Hays State Math Relays competition. Ellsworth took first place with 87. The Monarchs came in second with 78. Minneapolis rounded out the top 3 with 55. Individually, sophomore Jin Jang took 1st place 3 times (Number Sense, Alg. Manipulations and Geometry) while the 9th grade team of Haley Stecklein, Caleb Marintzer, and Jonathan Lee took 1st in Alg. Manipulations. More individual placings will be shared later. Great job Monarch Mathletes. The Math Relays team is coached by Melissa Schoepf and Jake Befort.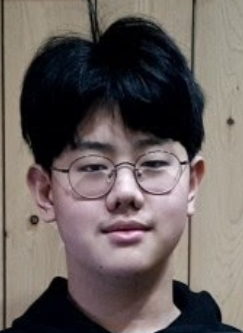 Congratulations to Mr. Joe Pfannenstiel on being named TMP-M Junior High Student Council's Teacher of the Quarter. Mr. Pfannenstiel is in his first year of teaching 7th grade religion.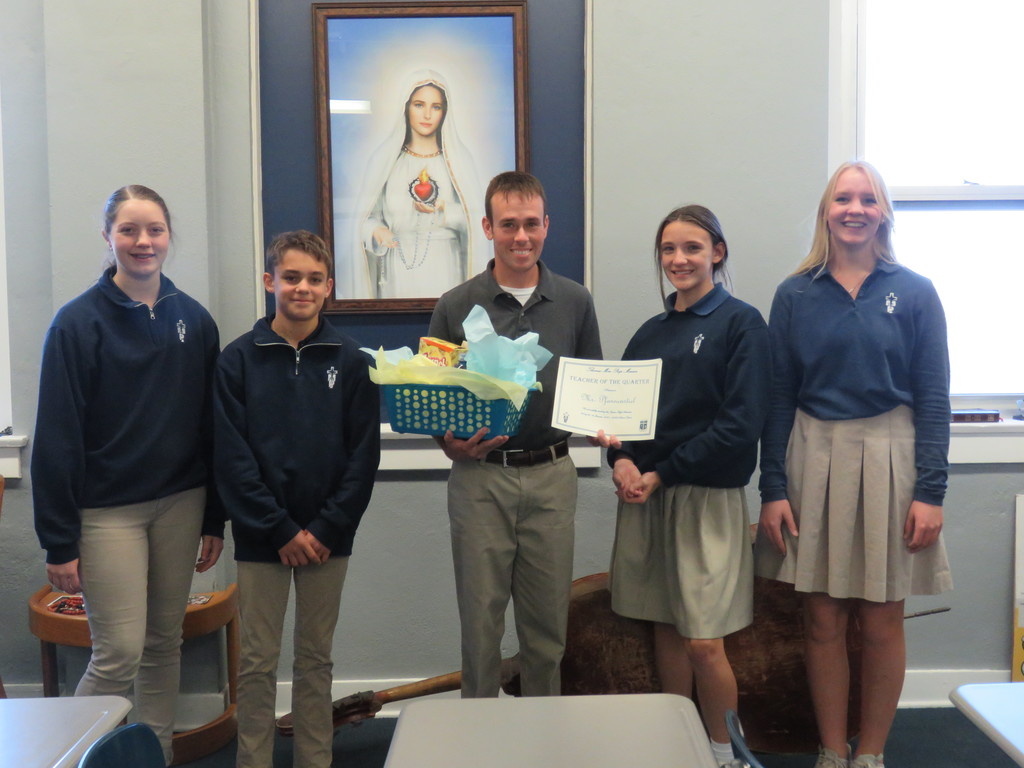 On Wednesday, Nov. 10, the TMP-Marian FFA Chapter traveled to WaKeeney for 2 judging contests. The contests were Food Science and Milk Quality. The Food Science contest consisted of a 50 question exam, aroma evaluation, triangle test (determine which one of 3 food samples doesn't match the others), product compliance, math practicum and customer complaint letters. The Milk Quality contest consisted of a 50 question exam, math practicum, identifying different cheeses, identifying dairy products and identification of off-flavored milk. In the Greenhand Division, younger students, the team of Chloe Purinton, Grace Schmeidler, Gracyn Schippers, Caleb Marintzer, Hank Corsair and AJ Brown placed 3rd in the Food Science contest and 2nd in the Milk Quality contest. Individually Chloe was 3rd and Gracyn 6th in the Food Science contest. Individually Grace was 4th and Chloe was 5th in the Milk Quality contest. In the Senior Division the team of Morgan Markus, Nicole Dreiling, Allison Gottschalk, Kate Pope, Teagan Legleiter and Miriam Towns finished 11th in Food Science and 8th in Milk Quality. There are 17 schools from the Northwest District competing in these competitions. Great job Monarchs!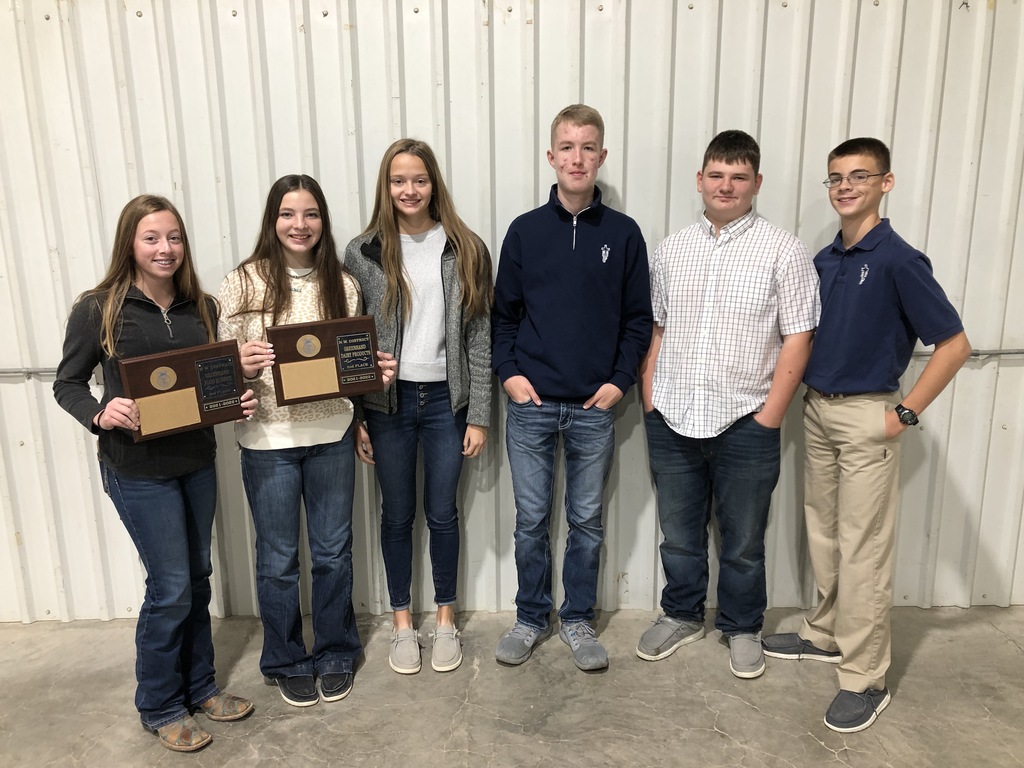 The NW KMEA Honor choir and band have been chosen, and TMP-Marian has students selected! Please congratulate: For the band: Alexa Fry And for the choir: Nick Herrman Natalie Loftus Allison Weber Madelyn Seiler Jessica Herrman Maggie Baalmann Jensen Brull They worked so hard to make it into these ensembles. The performance is on Saturday, December 11 at FHSU. If you're able, please come watch the concert and support these students in this honor!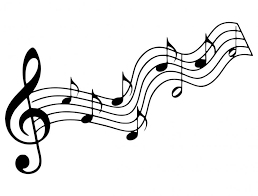 Happy belated birthday Ethan Pfannenstiel! Seniors Gavin Unrein and Emilee Lane presented him with his TMP-Marian license plate this morning. Have a great day today Ethan and Go Monarchs!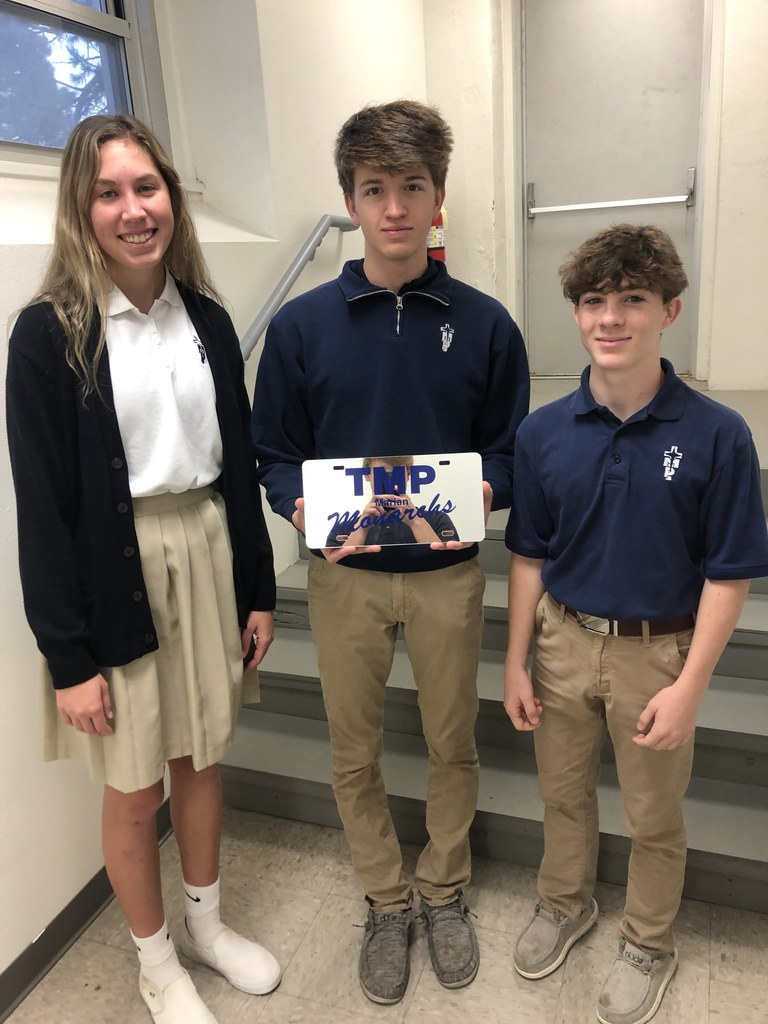 Happy Birthday Shyanne Yost! Big sister Kassidi Yost and senior Jace Wentling presented her with her TMP-Marian license plate today to show off her school pride. Go Monarchs!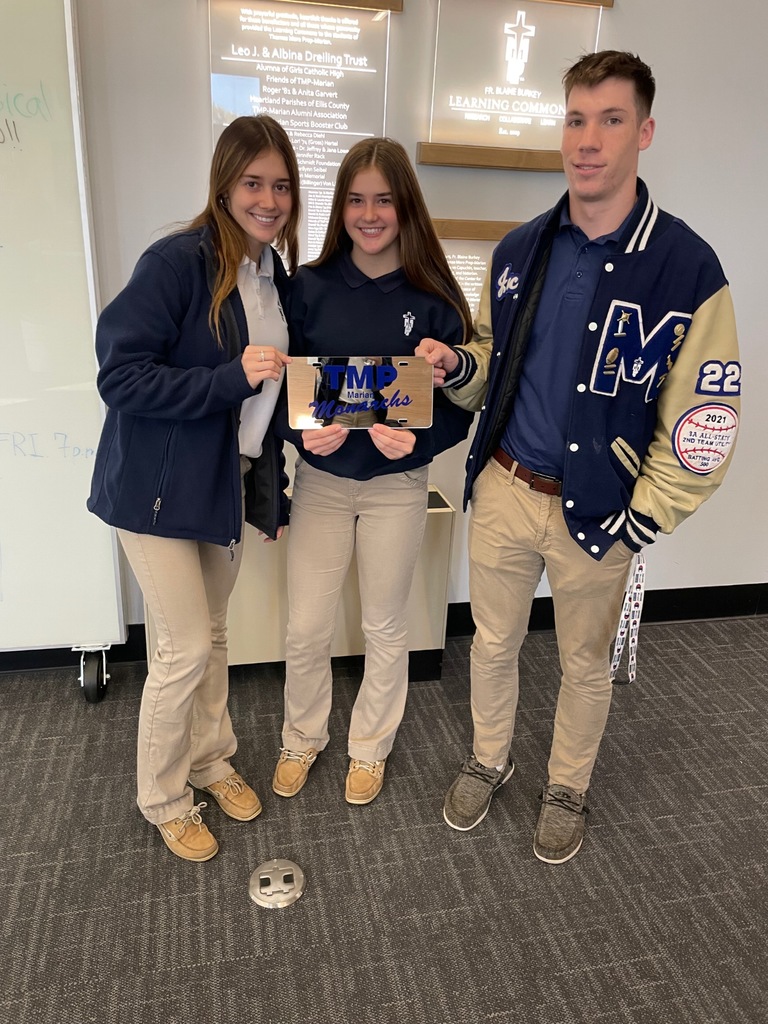 Kaiti Dinges, a presenter for Jana's Campaign, came to TMP to talk to the junior high students today about healthy relationships and respect. She gave the background of Jana's Campaign and its mission and shared characteristics of healthy relationships as well as flags of unhealthy ones.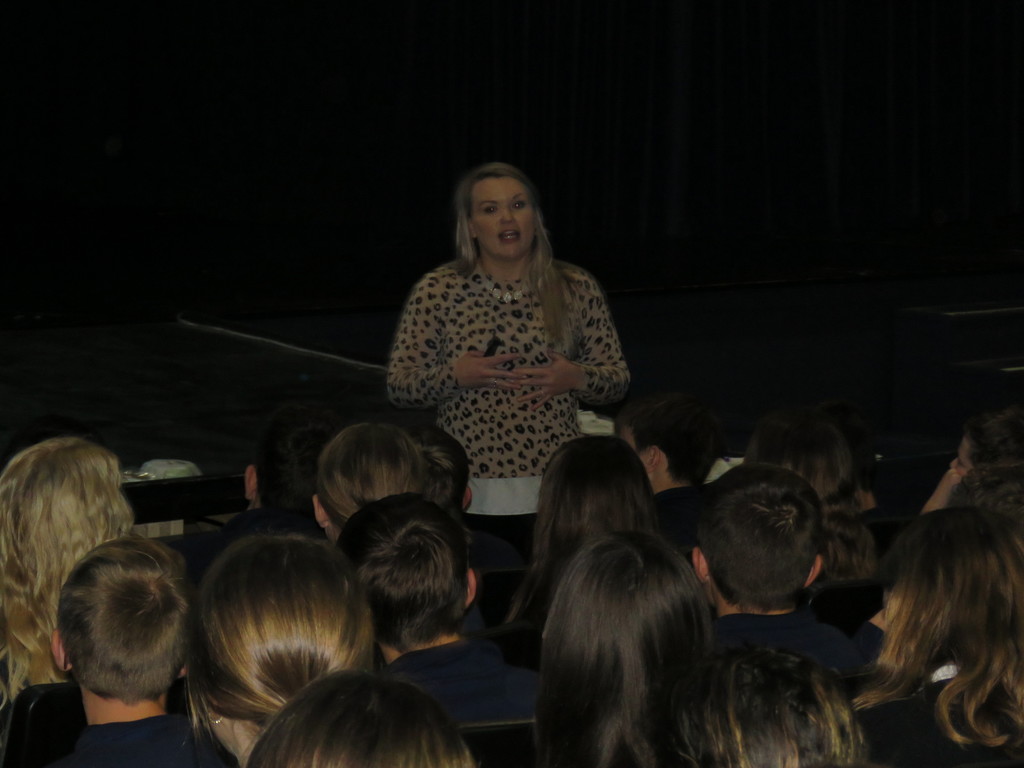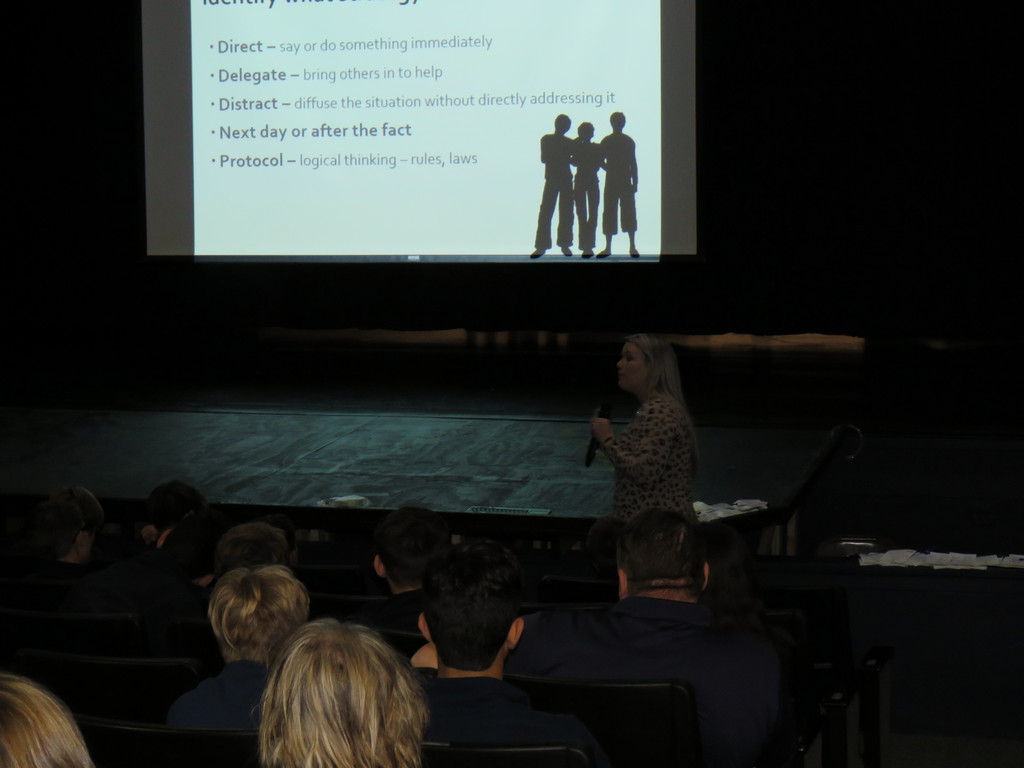 Pep-rally: Thursday, November 11th, 3:00pm at Al Billinger Fieldhouse! Join us in helping to send off the Monarch football team as they prepare to host Kingman in the sectional round of the state playoffs! #WeAreMonarchs

Football Send-Off at 4 p.m. today! Come park or stand on the side of the 17th Street campus road (the one that passes in front of ABFH) to send off the TMP-Marian football team to their Regional matchup in Hoisington. The bus will depart at 4 p.m. See you there!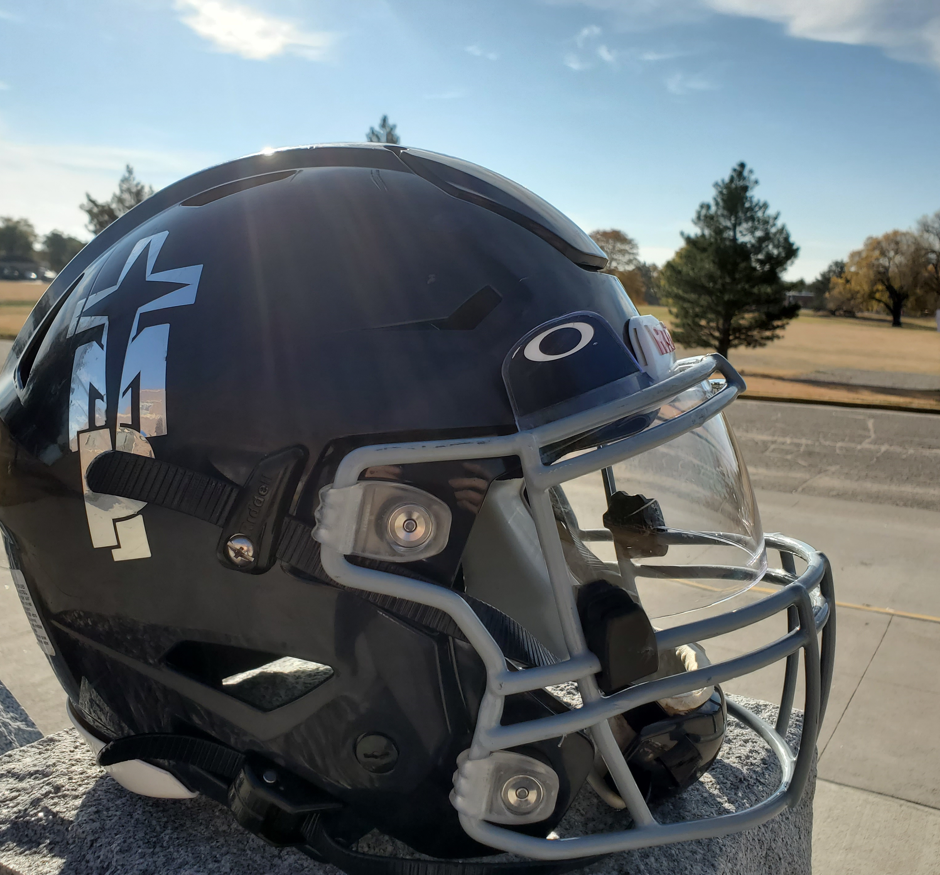 Ian Lenser '18 recently placed a plaque in the grotto to commemorate the completion of his Eagle Scout project, which was the addition of the Stations of the Cross markers. The grotto improvements are so nice. If you haven't had a chance to visit the grotto recently, come check it out!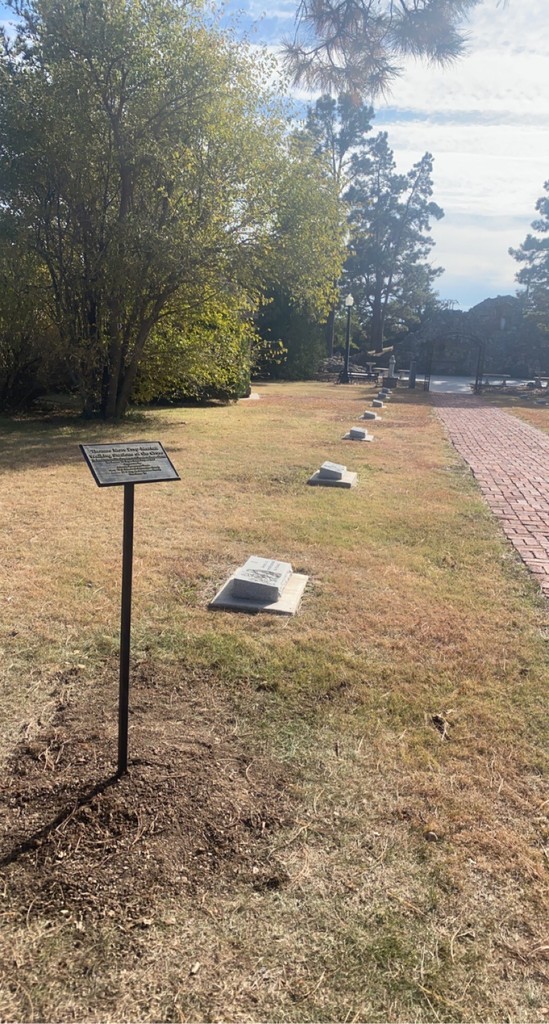 Come join us!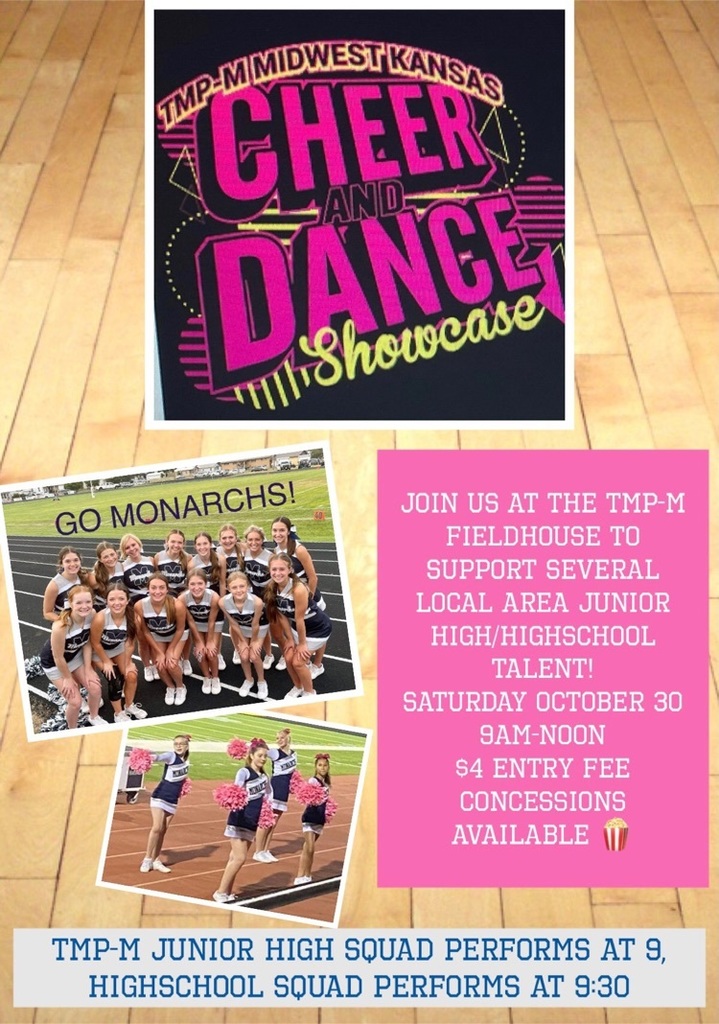 Junior high communities have worked hard the last few weeks decorating doors for Halloween, and those doors were judged yesterday. The results were as follows: 1st - This is Halloween 2nd - We are Family 3rd - RIP Congrats to all of the winners as well as the other communities for working together and creating some spooktacular door coverings! Happy Halloween!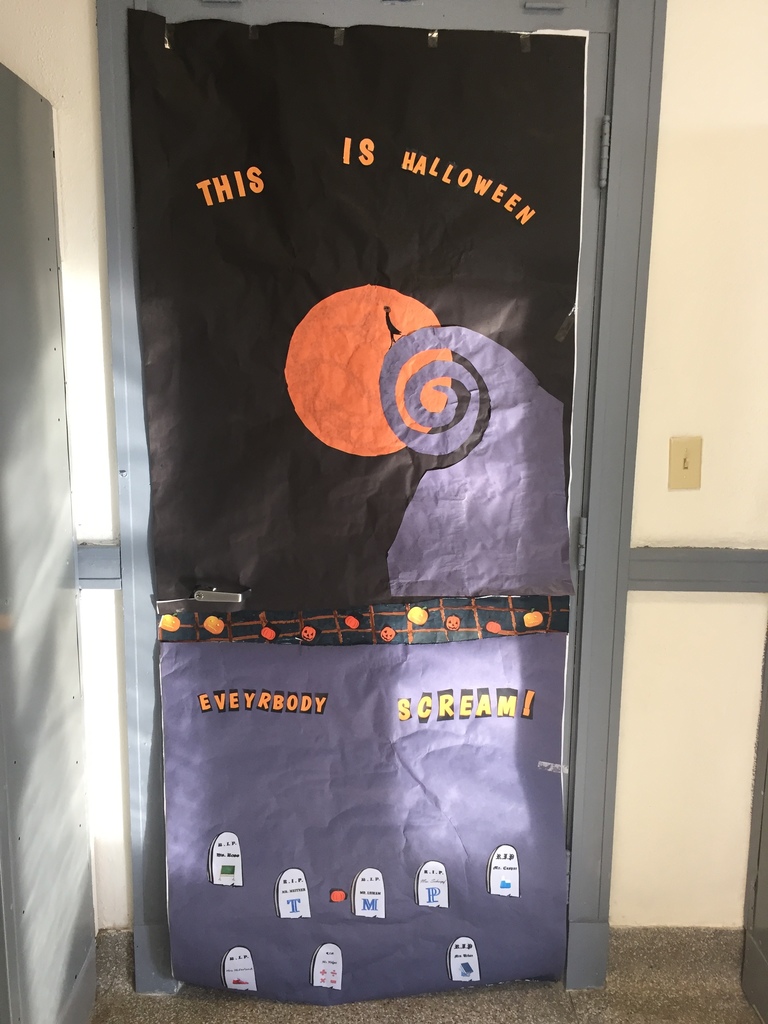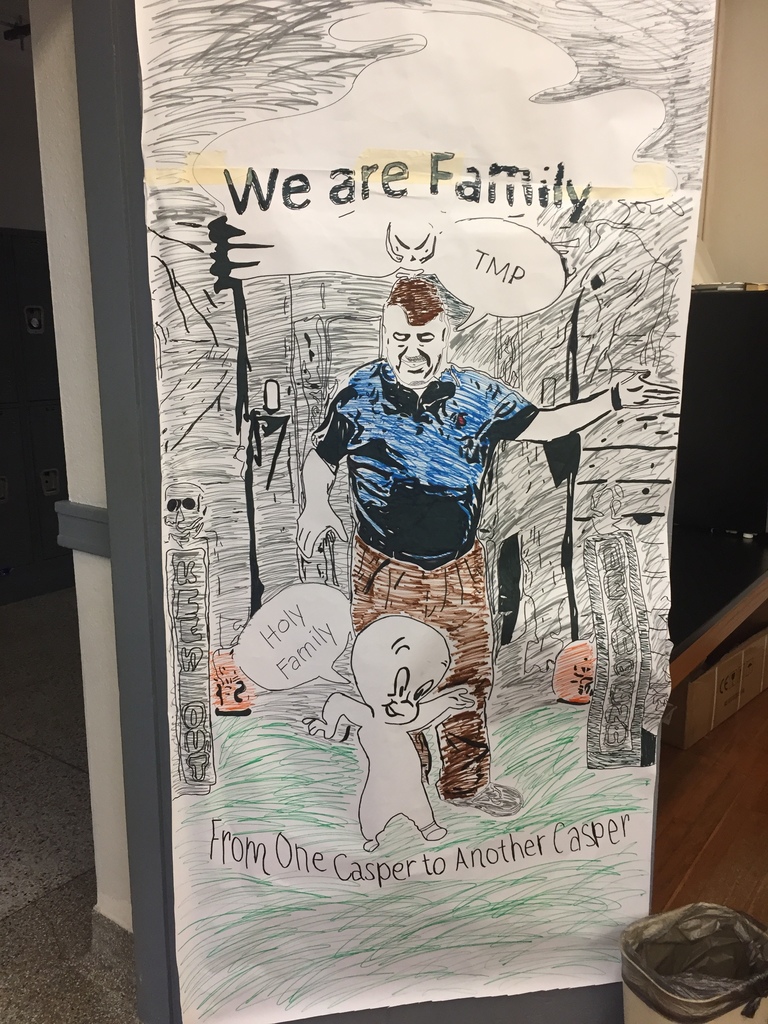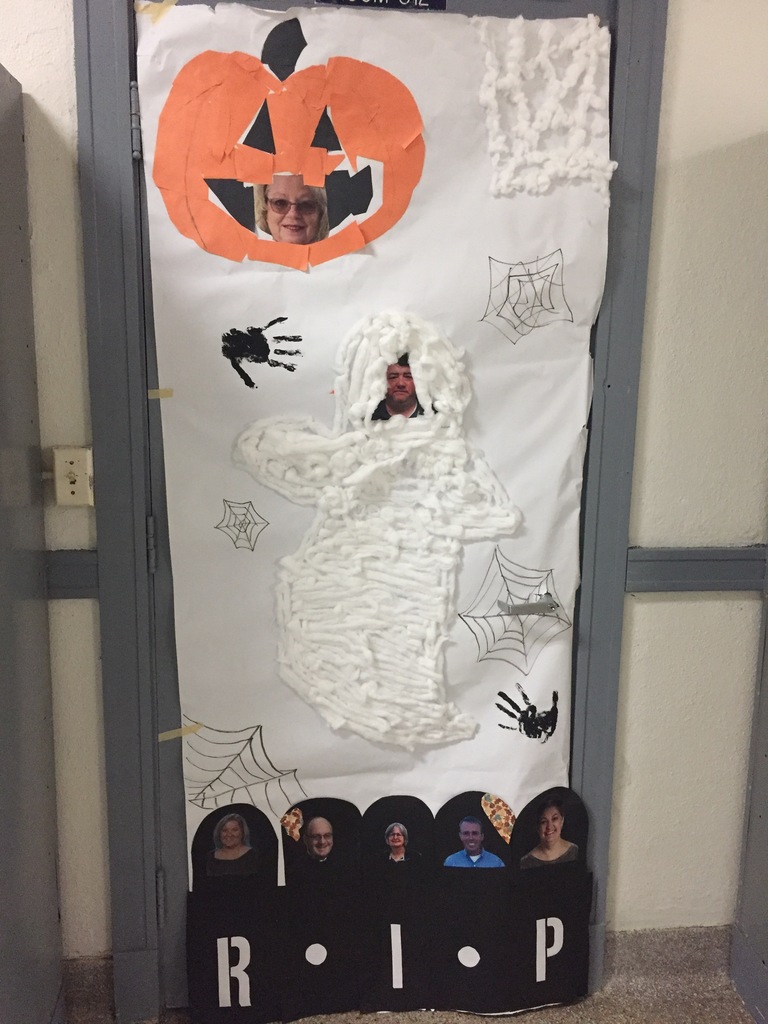 Calling all prayer warriors. Our students need your help! To get signed up all you need to do is send an email to the address listed below. Thanks!